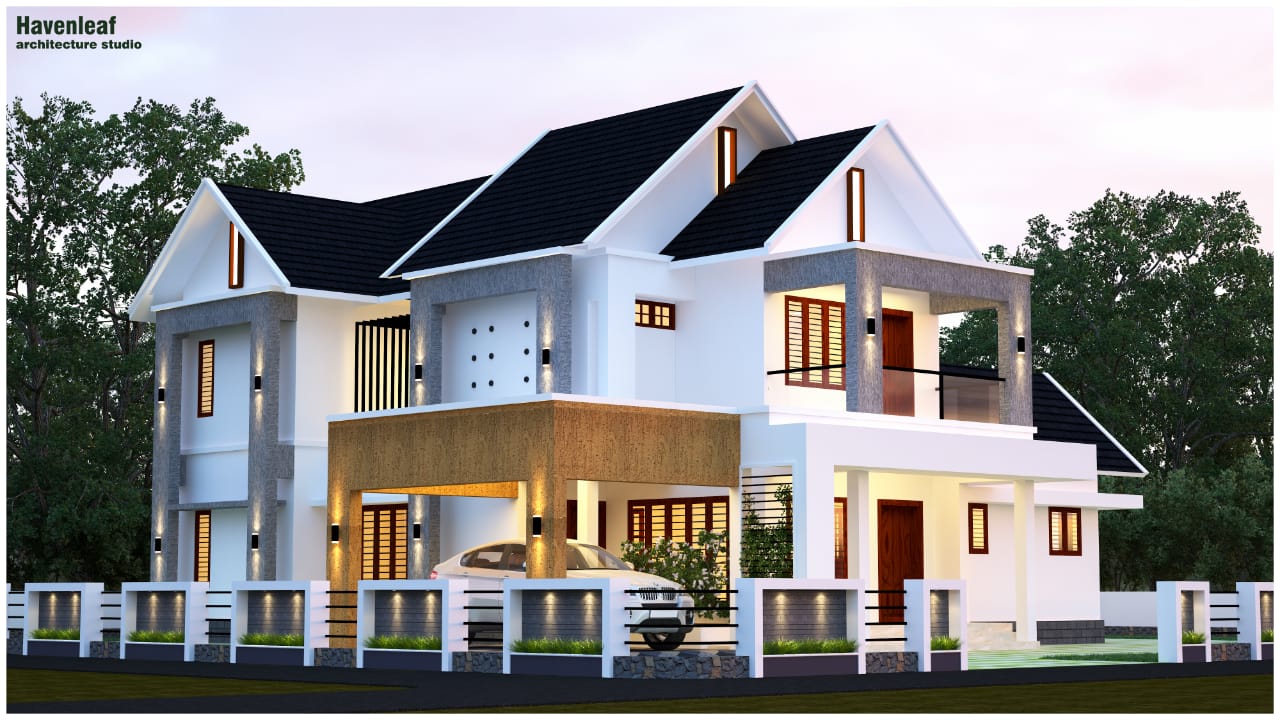 Residence – HAS 0075
Constructed in a contemporary style to suit the climate of Kerala. The 2900 Sq.FT house looks like several boxes and angles at a glance. The house has many fins and is painted with a texture finish on the exterior wall which gets a lot of attention. Adjacent to the veranda there is a courtyard. The main attraction is the beautifully arranged courtyard with plant. Car parking is provided on the left side of the house. There are two sitout designed for his home. The drawing room is accessed from 144 cm wide verandah. The second verandah climbs straight up from the stone paved courtyard or from the car porch. The family living room is accessed by a foyer from the second verandah . A courtyard lined with pebbles is also attached on this foyer.
Project Type:
Contemporary Fusion
Location:
Allappara, Pala
Contemporary Fusion Architecture
 The first bedroom is adjacent to the family sitting area. The dressing and bathroom areas are adjacent to the bedroom. A large dressing room provided in the master bedroom. The spacious dining room is first and foremost as you enter from the living room. From here you can go directly to the pantry kitchen. The modular kitchen is set here in an open style. White is the color of choice for light.
Contemporary design is all about the now and the future
The dining area leads to the external courtyard. The garden is also set up along the outer wall. Adjacent to this is a second bedroom, attached bathroom and dressing area.  The staircase leads from the dining room to a space above the foyer between the two floors. On the first upper floor,  sitting, the open terrace and balcony are beautifully designed. The third and fourth bedrooms are on either side of it. The bedrooms have a dressing area and an attached bathroom. Staircase walls are made of toughened glass. Italian marble and teak are used for the flooring and interior. The interior is simple without using unnecessary colors. Wooden color is important. The house is provided with open ventilation to get adequate ventilation and light. The spacious bedrooms are furnished with simple colors.