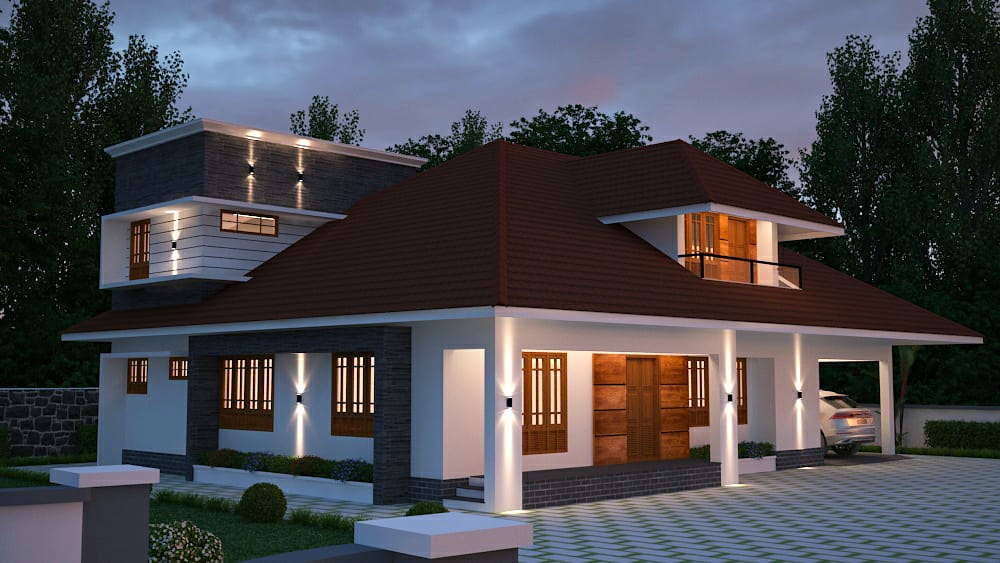 Residence – HAS 0201
This home is under construction located near Manathoor, Pala-Thodupuzha Road. The house is designed as a Eco-friendly budget home and covers an area of ​​2000 square feet on a 40 cent plot. This house has a variety of architectural restrictions, called for a double story design with usage of concrete and renewable resources to make it eco-friendly, mandatory use of clay roof tiles. With these requirements in mind, we started with an archetypal house that almost resembled a child's drawing – walls and a pitched roof. The second 3D elevation image was a proposal but client decided to go like first 3D image due to the factor of our climate / temperature. After many discussions, we finalized the design as described below.
Type:
Traditional - Modern Fusion
Car parking facilities are provided on the right side of the house. From the 120 cm wide verandah, we have to cross a foyer to reach the drawing room. We designed drawing cum dining to get the feel of a large space. The importance of the area is made clear and it is used as a featured element in organizing the space. We proposed a family living room with ample ventilations and TV placed in the family living area. The service areas are located in the back of the living and leisure area. This design consists of two Kitchens, the open kitchen connected to family living area.  There are two bedrooms on the ground floor: the master one and the secondary one, each one with its respective bathroom and dress area.
The most important thing about global warming is this. Whether humans are responsible for the bulk of climate change is going to be left to the scientists, but it's all of our responsibility to leave this planet in better shape for the future generations than we found it.
The open kitchen and family living is designed as a double height area and has a clear view from the first floor. Stair is starting from the front foyer and a bookcase is planned to place under the stairs. On the upper floor, there are two rooms: the main one and the secondary one, each one with its respective bathroom. There is another additional stair connected to the second room from outside so car drivers / other workers of our client can stay there. A storage/battery space also placed in the first floor. The house is planned with LED lighting, solar heater and solar panels that, in addition to providing power to the house.